The color of the surface of the Art object as a means of harmonizing the modern architectural environment
Keywords:
Art object, art materials, coloring, architectural environment, space harmonization
Abstract
This article explores the characteristics of the colored surface of an Art object as a means of creating a harmonious architectural and spatial environment. The issue of increasing the comfort, efficiency, ergonomics and aesthetics of the design of the architectural environment, which is related to the global problems of humanity, is raised. Since the use of fine art elements in an architectural space should evoke only positive emotions, there is a need to use various types of Art objects in modern design. In our case, it is a competent and harmonious use of the colored surface of the Art object, because the artistic material itself is one of the main factors in fine art, which positively affects the aesthetics of the environment perception. Based on the results of the analysis, the main properties of surface color, which affect the perception of various types of artistic forms of Art objects, are determined and systematized. A structural model of the selection of artistic material during the creation of Art objects, taking into account their properties and characteristics, is proposed. The implementation of research results is shown on the example of author's works. The developed innovative methods of choosing various materials in Art objects are proposed to be used in the process of designing a comfortable and harmonious environment for human existence.
References
Arnheim, R. Art and Visual Perception. Los Angeles: University of California Press, 1974, р. 392.
Artist Oksana Pilipchuk [online 10.01.2023.] http://oksana-pilip-com-ua.1gb.ua/index.php
Building Standard WELL [online 10.01.2023.] https://www.wellcertified.com
Eler, А. Huge new sculpture lights up MSP Airport, offering passengers a chance to smile and play. StarTribune [online 10.01.2023.] https://www.startribune.com/huge-new-sculpture-lights-up-msp-airport-offering-passengers-a-chance-to-smile-and-play/600036144/
Cicco, F. D., Wiersma, L., Wijntjes, M., Pont, S. Material Properties and Image Cues for Convincing Grapes: The Know-How of the 17th-Century Pictorial Recipe by Willem Beurs. Brill, 2020, No. 8(3-4), p. 337–362.
Cobalt Muffin' Is A New Public Art Installation In Shanghai. Contemporist [online 8.12.2023.] https://www.contemporist.com/cobalt-muffin/
Chadwick, A. C., Kentridge, R. W. The perception of gloss. Vision Research, 2015, No. 109(PB), p. 221–235.
Fleming, R. W., Gegenfurtner, K. R., Nishida, S. Visual perception of materials: The science of stuff. Vision Research, 2015, No. 109(B), 123–124.
Hassanein, H. Trends of Contemporary Art in Innovative Interior Architecture Design of Cultural Spaces. Cities' Identity Through Architecture and Arts, (2020), No.29(11), р. 25–57.
Ishiguro, C., Takagish, H., Sato, Y., Seow, A. W., Takahashi, A., Abe, Y., Hayashi, T., Kakizaki, H., Uno, K., Okada, H., Kato, E. Effect of dialogical appreciation based on visual thinking strategies on art-viewing strategies. Psychology of Aesthetics, Creativity, and the Arts, 2021, No. 15(1), p. 51–59.
Jadzinska, M., Parzuchowski, P. New Materials in Works of Art (Plastics) – The Challenge of Our Times Synergy in the Field of Recognition, Damage, Assessment and Protection. Conference: International Conference on Cultural Heritage EUROMED, November 2014, At: Limassol Cypr, 2014, p. 568–578.
Jayathissa, P., Quintana, M., Abdelrahman, M., Miller, C. Humans – as – a – Sensor for Buildings – Intensive Longitudinal Indoor Comfort Models. Buildings, 2020, No. 10(10), р. 174.
Lankston, L., Cusack, P., Fremantle, C., Isles, C. Visual art in hospitals: case studies and review of the evidence. J. of the Royal Society of Medicine, 2010, No. 103(2010), p. 490–499.
Miscenа, A., Arato, J., Rosenberg, R. Absorbing the gaze, scattering looks: Klimt's distinctive style and its two-fold effect on the eye of the beholder. J. of Eye Movement Research, 2020, No. 13(2):8, p. 1–11.
Materials Coursework Guide [online 10.01.2023.] https://www.tate.org.uk/art/student-resource/exam-help/materials
Nan, M., Chau, H-W., Zhou, J., Noguchi, M. Structuring the Environmental Experience Design Research Framework through Selected Aged Care Facility Data Analyses in Victoria. Sustainability, 2017, No. 9(12), р. 173–193.
Pilipchuk, O., Kolomiiets, Y. Elaboration of main methods of using coloristics at creating the ecological interior space including artworcs. EUREKA: Art and Hum, 2019, No. 3(2019), р. 3–8.
Pilipchuk, O., Polubok, A. Solution of creative design of artistic and decorative form depending on the used materials. Science Rise, 2019, No. 4(57), p. 36 – 39.
Pylypchuk, O. D., Polubok, A. P., Krivenkо, O. V. Influence of environmental aspects of design on the aesthetics of architectural space. Conference: Materials of the International Scientific and Practical Conference: Science, engineering and technology: global trends, problems and solutions, 25–26 September 2020, Prague. Czech Technical University, 2020, Part 2, р. 122–124.
Pylypchuk, O., Krivenko, O., Polubok, A., Zapryvoda, A., Zapryvoda, V. Ecological Innovations of Materials in Art Objects to Create a Comfortable Human Environment. Conference: Proceedings of the 2021 2nd International Conference on Modern Education Management, Innovation and Entrepreneurship and Social Science (MEMIESS 2021), Jul. 2th-4th, 2021 in Xi'an, China. Atlantis Press, 2021, No. 568, р. 1–6.
Sayim, B., Cavanagh, P. The Art of Transparency. I-Perception, 2011, No. 2(2011), p. 679–696.
Softlab's mirror mirror installation reflects its surrounding in unexpected ways. Urdesign. [online 10.01.2023.] https://www.urdesignmag.com/art/2019/04/01/mirror-mirror-softlab/
Shanghai Natural History Museum/Perkins Will [online 10.01.2023.] https://www.archdaily.com/623197/shanghai-natural-history-museum-perkins-will
Two museums with world-class studio-glass art collections. Tacoma: the nexus of studio glass art. [online 10.01.2023.] https://www.traveltacoma.com/tacoma-glass-art/
Ulusoy, B., Olgunturk, N., Aslanoglu, R. Pairing colours in residential architecture for different interior types. J. Color Res Appl, Wiley, 2021, No. 46(2021), р. 1079–1090.
Van Zuijlen, M. J. P., Pont, S. C., Wijntjes, M. W. A. Painterly depiction of material properties. J. of Vision, 2020, No. 20(7):7, p. 1–17.
Wang, Q. Analysis of Interior Space Design and Visual Artistic Effect. Conference: 1st International Conference on Education, Art, Management and Social Sciences (EAMSS). Published by CSP, 2018, p. 362–366.
Wiebel, C. B, Toscani, M., Gegenfurtner, K. R. Statistical correlates of perceived gloss in natural images. Vision Research, 2015, No. 115(2015), p. 175–187.
Zhenfeng, Q. Analysis of the integration of indoor ecological landscape design and interior decoration design. Advances in Engineering Research, 2018, No. 173(2018), р. 364–369.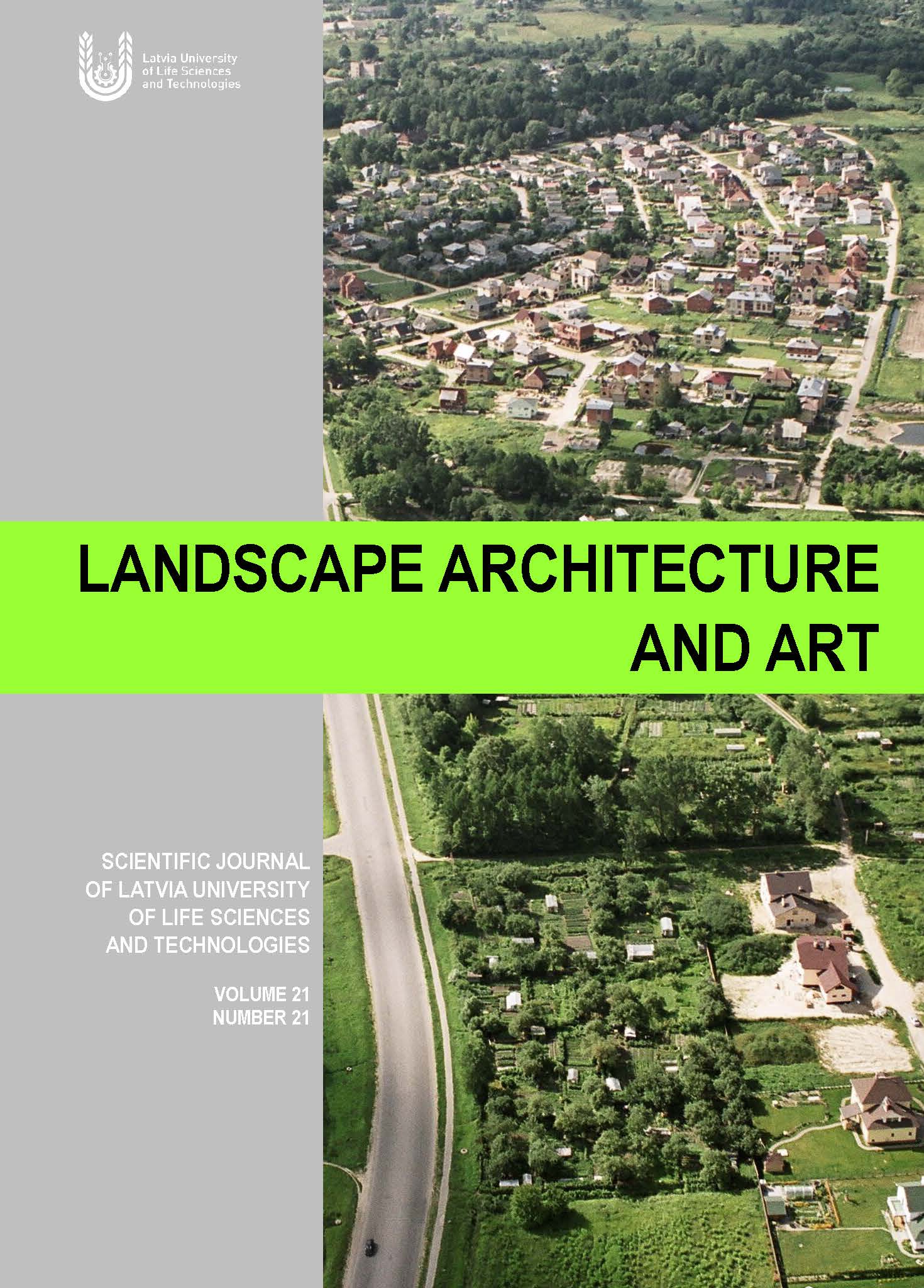 Downloads
How to Cite
Pylypchuk, O., & Polubok, A. (2022). The color of the surface of the Art object as a means of harmonizing the modern architectural environment. Landscape Architecture and Art, 21(21), 59–67. https://doi.org/10.22616/j.landarchart.2022.21.06
License
Copyright (c) 2022 Landscape Architecture and Art
This work is licensed under a Creative Commons Attribution-NonCommercial 4.0 International License.