Cinematic methods of scenario construction in the design of landscape parks
Keywords:
architectural environment, landscape, method of cinematographic script
Abstract
The article describes and analyzes the possibility of using the method of writing a cinematic script in the design of park space, and it is a test of the method for teaching park design by the method of screenplay and generalization of the results. The authors analyze the possibility of applying this method in the actual design of the existing architectural environment of the city and compare the results with the results of their colleagues from another educational institution of architectural profile in performing similar tasks. The article proves that the cinematographic script, not the theatrical one, is the most suitable for the analysis of the architectural environment and writing the script of its perception. Sid Field's film paradigm, based on Sid Field's film paradigm, is based on the slogan "Every moment the spectator should be interested in what will happen next?" modern city life. According to the screenplay, which has its own structural units, the territory of the park is also divided into several functional zones, each of which corresponds to the cinematic elements. As in the movie, each part of the park evokes certain emotions, which are programmed by the designers in advance. This can be done by manipulating space and its boundaries. The authors suggest that this method of cinematic scenario can be used in the design of the architectural environment of the city, as a new part of it (urban quarter, neighborhood, and district) and in adjusting the existing historical environment.
References
Ass, K. Arhitektura kino [online 15.02.2020.]. http://seance.ru/blog/architecture-cinema/
Chebina, O., & Shevchenko, L. The boulevard as a type of urban linear space the historical boulevards of Poltava (Ukraine) and mons (Belgium). Architektura a Urbanizmus, 2015, No. 49(3-4), p.199−215.
Ellard, К. Sreda obitanija: Kak arhitektura vlijaet na nashe povedenie i samochuvstvie. Moskva: Al'pina Pablisher, 2016, 104 p.
Erovikova, D.M. Arhitekturnaja scenografija gorodskoj sredy – kak metod formirovanija turisticheskogo marshruta v malom gorode. Nauchnyj almanah, 2018, No. 4-2(42), Retrieved from URL http://ucom.ru/doc/na.2018.04.02.253.pdf
Field, S. Kinoscenarij: osnovy napisanija. Moskva: JeKSMO, 2018, 384 p.
Gehl, J. Goroda dlja ljudej Moskva: Krost , 2012, 276p.
Isupova, M. A.. Scenarnyj podhod v formirovanii rekreacionno-ozdorovitel'nyh kompleksov Germanii. Proceedings of the 67th Scientific Conference title of the Social and Humanitarian Sciences Section, Cheljabinsk: Juzhno-Ural'skij gosudarstvennyj universitet, 2014, p. 212–216.
Krasheninnikov, A.V. Scenarnoe proektirovanie gorodskoj sredy. Architecture and Modern Information Technologies, 2017, No. 4(41), p. 242-256.
Kuz'mina O.V. & Shvarc E.M. Forecasting a single art space in the process of creating a script for festive forms of culture [online 25.06.2020.]. http://www.alain-bertaud.com/images/AB_Transportation
Lihachev, D. S. Pojezija sadov: k semantike sadovo-parkovyh stilej. Sad kak tekst. Moskva: Soglasie, 1998. p.
Litvinov, G. V. Scenografija landshaftnogo dejstva. Cheljabinsk: ChGAKI, 2005. 230p.
McKee, R. Istorija na million dollarov. Master-klass dlja scenaristov, pisatelej i ne tol'ko. Moskva: Al'pina Pablisher, 2013. 456 p.
Mehroj Ahmadaliev. Sid Field Screenwriting 2014 [online 08.03.2017.]. https://www.youtube.com/watch?v=UxV48yjx7gs
Mitta, A. Kino mezhdu adom i raem: kino po Jejzenshtejnu, Chehovu, Shekspiru, Kurosave, Fellini, Hichkoku, Tarkovskomu.... Москва: АСТ: Зебра Е; Владимир: ВКТ, 2010. 508с.
Molchanov, A. Bukvar' scenarista. Kak napisat' interesnoe kino i teleserial. Moskva: JeKSMO, 2015, 352 p
Morgun, N. & Reznickaja L.M., Skopincev, A.V. Arhitekturnaja scenografija gorodskoj sredy – kak proektnaja strategija rekonstrukcii istoricheskogo centra goroda i faktor ukreplenija ego turisticheskogo imidzha [online 06.03.2012.]. http://archrus.ru/Activities/Statqi/Arxitekturnaja-scenografija-gorodskoj-sredy
Nehoroshev, L. N. Dramaturgija fil'ma. Moskva: VGIK, 2009, 344 p.
Novoselchuk, N., Shevchenko, L., & Kamal, M. Ways of integration of the landform architecture buildings with landscape. Proceedings of the 3rd International Conference on Building Innovations, 2022. p. 525−535.
Rappaport, A. Gorodskaja sreda i dramaturgija arhitekturnoj kompozicii [online 19.02.2018.]. http://papardes.blogspot.com/2009/12/blog-post.html
Tokarev, A.. Ispol'zovanie sredstv kinoiskusstva v arhitekturnom proektirovanii. Ph.D. thesis. Ural'skaja gosudarstvennaja arhitekturno-hudozhestvennaja akademija. Ekaterinburg, 2007. 117 p.
Troshkina, O. Zasoby kompozytsii u pobudovi kino- ta «pryrodnoho» kadriv pry spryiniatti arkhitekturnoho seredovyshcha. In: Architecture, construction, design in the educational space. Ryha, Latviia: Baltija Publishing., 2021, p. 147−184.
Troshkina, О. Theatricalization of architectural environment as human psychological need. Composition in architecture: publication of the Chair of Housing Environment Faculty of Architecture Cracow University of Technology, 2015, No. 15, p. 156–161.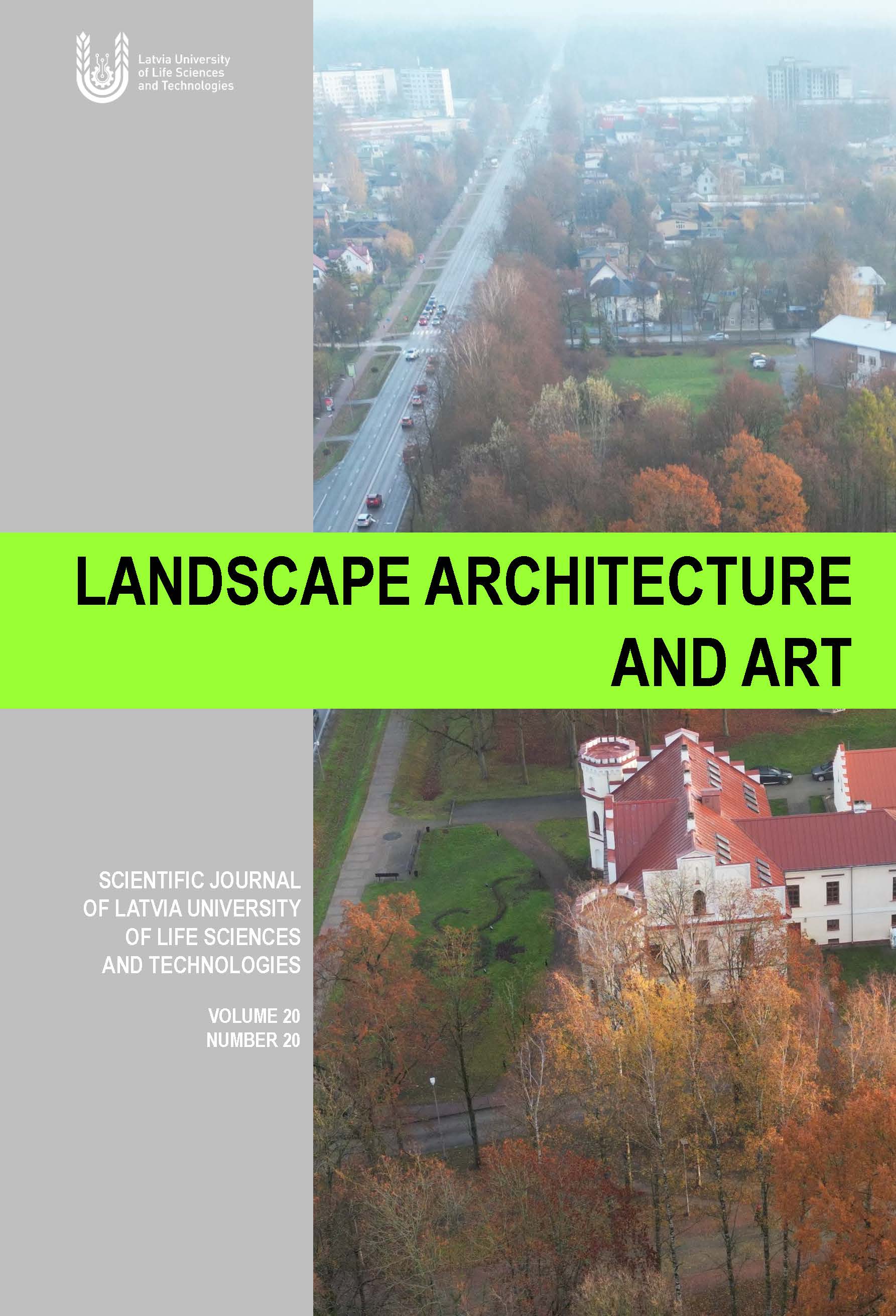 Downloads
How to Cite
Troshkina, O., Us, V., Mostovenko, A., Shevchenko, L., & Novoselchuk, N. (2022). Cinematic methods of scenario construction in the design of landscape parks. Landscape Architecture and Art, 20(20), 82–91. https://doi.org/10.22616/j.landarchart.2022.20.09
License
Copyright (c) 2022 Landscape Architecture and Art
This work is licensed under a Creative Commons Attribution-NonCommercial 4.0 International License.