Identity of historical areas of a city: interaction between nature and man
Keywords:
natural environment, man made environment, urban identity, historical suburbs, Vilnius
Abstract
The article discusses the preservation of urban peculiarity, visual uniqueness and cultural identity in the world affected by globalisation processes. First of all, the urban identity as such is discussed, a study of literary sources helps identify factors that shape urban identity. Tangible and intangible factors are distinguished. Second, in order to reveal the problems of identification and fostering of the identity of historical parts of cities and to verify the urban identity shaping methodology described in this article, historical suburbs of Vilnius in the southeast part of the Old Town are analysed in detail. The performed research of peculiarities of the urban fabric of the historical suburbs has showed very vividly that both the man made physical environment and the features of the natural environment present are significant for urban identity. In the studied suburbs, expressive terrain, also a river and its valley play a significant role for the formation and identity of a place. Man made built-up, ensembles, street routes and even the built-up function adapted to natural conditions. The close interaction between natural conditions and human activities has led to the identity of these historical territories. It is noted that urban identity should not be perceived as unchanging – it is a process that is shaped rather deliberately. Urban design, architecture and landscape architecture are activities that help create urban identity.
References
Alexander, Ch., Ishikawa, S., Silverstein, M. A Pattern Language. New York: Oxford University Press, 1977, 1171 p.
Bučas, J. Kraštotvarkos pagrindai. Kaunas, Technologija, 2001, 283 p.
Canniffe, E. Urban Ethic: Design in Contemporary City. Oxon: Routledge, 2006, 208 p.
Carmona, M., Tiesdell, S., Heath, T. and Oc, T. Public places urban spaces: The dimensions of Urban Design. Oxford: Architectural Press, London, 2010, 408 p.
Čamprag, N. Building Urban Identities. Saarbrücken: SVH, 2017, 488 p.
Daujotaitė, I. M., Laukaitytė-Malžinskienė, G. I. Vilniaus miesto centro urbanistinei kompozicijai turintys įtakos Neries slėnio gamtinės morfostruktūros ypatumai. Urbanistika ir architektūra, 2003, Vol. XXVII, No. 4, p. 155-162.
Dijokienė, D. Urbanistinis istorinių priemiesčių paveldas / Urban Heritage of Historical Suburbs. Vilnius: Technika, 2009, 216 p.
Frampton, K. Modern Architecture. A critical history. London: Thames & Hudson Ltd, 2007, 424 p.
Guttal, S. Development in Practice. Globalisation., 2007, 17(4/5), p. 523-531.
Hauge, A. L. Identity and place: a critical comparison of three identity theories [online 04.05.2022]. https://www.researchgate.net/publication/233630419_Identity_and_Place_A_Critical_Comparison_of_Three_Identity_Theories1
Hilber, L., Datko, G. Stadtidentität der Zukunft. Berlin: Jovis Verlag GmbH, 2012, 240 p.
Kim, J. Understanding Elements of Local Identity of Place: Physical vs Personal-Social Atrributes. In: 88th ACSA Annual Meeting, 2000, p. 451-456.
Lalli, M. Urban-related identity: theory, measurement and empirical findings. Journal of Environmental Psychology, 1992, No. 12 (4), p. 285-303.
Lynch, K. The Image of the City. Massachusetts: The M.I.T. Press, 1960, 208 p.
Mačiulis, A. (ed). Vilniaus miesto savitumai. Vilnius: Vilniaus dailės akademijos leidykla, 2006, 112 p.
Mačiulis, A. Pasaulinės architektūros meninės raiškos kryptys Lietuvoje (1960-1990) [online 04.05.2022]. http://archiforma.lt/?p=532.
McLuhan, M. The Gutenberg galaxy: The making of typographic man. Toronto: University of Toronto Press, 1962, p. 31.
Montgomery, J. Making a City: Urbanity Vitality and Urban Design. Journal of Urban Design, 1998, No. 3 (1), p. 93-116.
Norberg-Schulz, C. Genius Loci: Towards a Phenomenology of Architecture. New York: Rizzoli, 1980, 216 p.
Petrušonis, V. Vietovės kultūrinio tapatumo respektavimas architektūroje. Ph.D. thesis. Vilnius: Vilnius Gediminas Technical University, 2004, 134 p.
Robertson, R. Globalization: Social Theory and Global Culture. New York: SAGE Publications Ltd, 1992, 211 p.
Samalavičius, A. L. "Vietos dvasia" Christiano Norberg-Schulzo architektūros fenomenologijoje. Logos, 2012, No. 71, p. 119-126.
Sheldrake, Ph. Place, Person and the Sacred. India International Centre Quarterly, 1999, vol. 26/27, p. 64.
Sonkoly, G. Historical urban landscape. London: Palgrave Macmillan, 2017, 202 p.
Šlepikaitė, A. Miestų istorinių dalių tapatumas: Vilniaus istorinių priemiesčių pietrytinėje senamiesčio dalyje urbanistinio formavimo koncepcija. Master thesis. Vilnius: Vilnius Gediminas Technical University, 2019, 88 p.
Vanham, P. A brief history of globalization. In: World Economic Forum Annual Meeting [online 20.02.2019]. https://www.weforum.org/agenda/2019/01/how-globalization-4-0-fits-into-the-history-of-globalization
Ziyaee, M. Assessment of urban identity through a matrix of cultural landscapes. Cities, 2018 [online 04.05.2022]. https://www.sciencedirect.com/science/article/pii/S0264275117304018?casa_token=Xd9OoLSly4cAAAAA:CV6ygVXYYmLmKzuNRpyZzdjdbTOR-MwWiyisl_TEaWCVPeYl8GydkLKbOGzJIZUUSuM2AllWLQ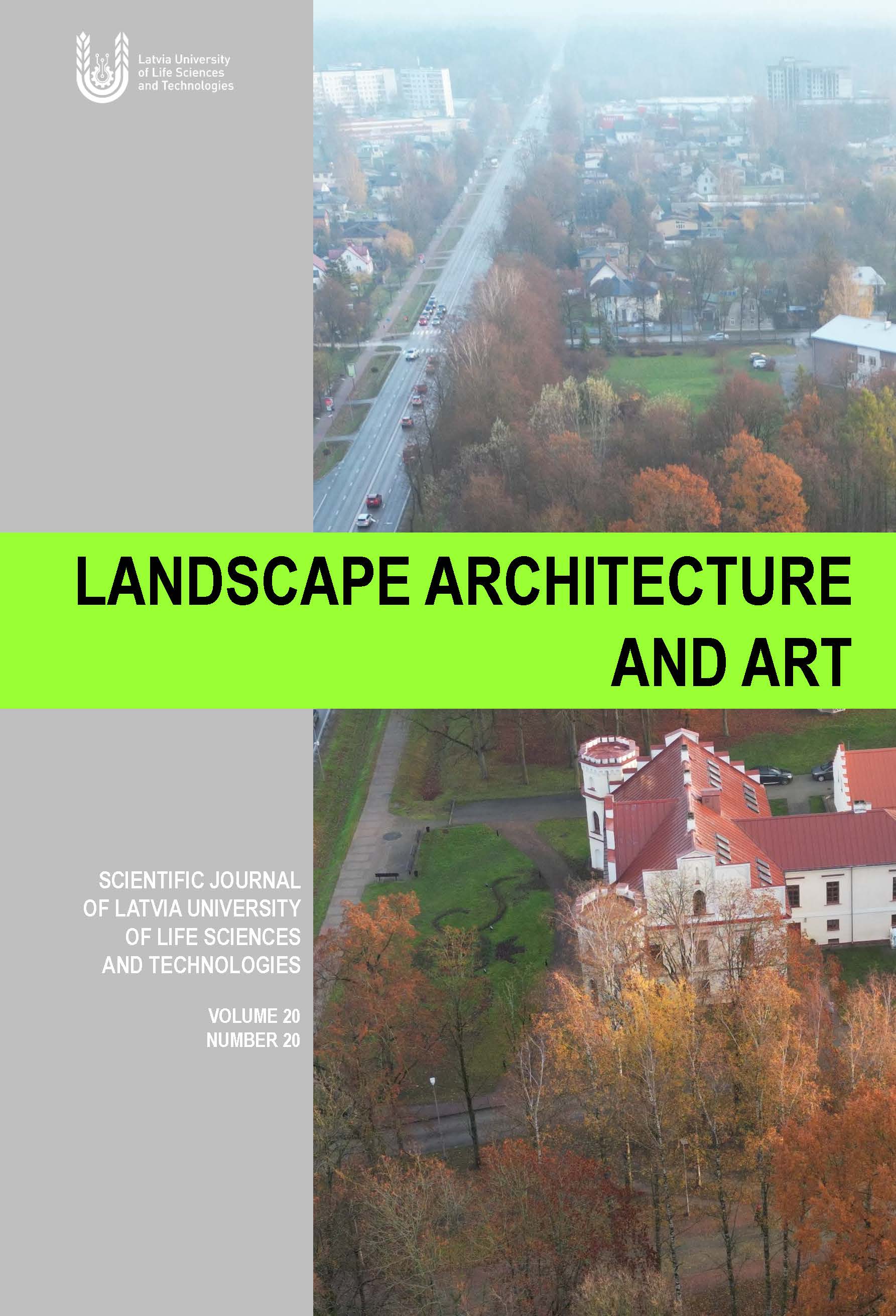 Downloads
How to Cite
Dijokienė, D., & Paškauskienė, A. (2022). Identity of historical areas of a city: interaction between nature and man. Landscape Architecture and Art, 20(20), 7–17. https://doi.org/10.22616/j.landarchart.2022.20.01
License
Copyright (c) 2022 Landscape Architecture and Art
This work is licensed under a Creative Commons Attribution-NonCommercial 4.0 International License.