Blended learning in lifelong adult education in the aspects of covid-19 epidemical restriction
Keywords:
blended learning, digital skills, human capital, COVID-19, landscape architecture
Abstract
Digital skills are one of the most important skills that were highlighted in the times of COVID-19, including areas like landscape architecture. COVID-19 pandemic raised possibilities for blended-learning in adult
education that were not used much before the pandemic. Data shows that Latvia's inhabitants digital skills compared to the EU average is much lower and there is a need for innovative ways to attract lifelong learners to participate in skills' advancement courses. At the end of 2020, a survey was conducted with the aim of the survey to find out the society's self-assessment of digital skills and the need to improve them for remote working. Results showed that a high number of respondents are willing to participate in blended learning courses and are eager to develop their digital skills.
References
Bruggeman, B., Tondeur, J., Struyven, K., Pynoo, B., Garone, A., & Vanslambrouck, S. Experts speaking: Crucial teacher attributes for implementing blended learning in higher education. [online] The Internet and Higher Education, 2021. 48, 100772 [cited 29.09.2021]. https://www.sciencedirect.com/science/article/pii/S1096751620300488casa_token=gYXOjgxu6jMAAAAA:o2Rmv8wBIhX8UawREmSXuZnEpAF4q4rqEIR0o1KdsgDvi8rxoDpZm7oB0a16ZNWK428MFJA
Digital Economy and Society Index: Indicators. [Online]. [cited 12.03.2021.] https://digital-agendadata.eu/datasets/desi/indicators
Dohn, N. B. Web 2.0: Inherent tensions and evident challenges for education. [online] International journal of computer-supported collaborative learning, 2009. 4(3), 343–363. [cited 12.04.2021] https://link.springer.com/article/10.1007/s11412-009-9066-8
Eschenbacher, S., Fleming, T. Transformative dimensions of lifelong learning: Mezirow, Rorty and COVID-19. [online] Int Rev Educ 66, 657–672 (2020). [cited 3.09.2021.] https://doi.org/10.1007/s11159-020-09859-6
Garrison, D. R., Vaughan, N. D. Blended learning in higher education: Framework, principles, and guidelines. John Wiley & Sons, 2008
Hubackova, S., Semradova, I. Evaluation of blended learning. [online] Procedia-Social and Behavioural Sciences, 2016. 217, 551–557. [cited 15.04.2021.] https://www.sciencedirect.com/science/article/pii/S1877042816000690
James N, Thériault V. Adult education in times of the COVID-19 pandemic: Inequalities, changes, and resilience [online] Studies in the Education of Adults. 2020 Jul 2;52(2):129-33. [cited 19.09.2021]. https://www.tandfonline.com/doi/full/10.1080/02660830.2020.1811474
James, T., Seary, K. Why aren't they attending class like they are supposed to? A review into students' perception of the value of class attendance. [online] Student Success, 2019. 10(1), 115–130. [cited 20.09.2021.] https://go.gale.com/ps/i.doid=GALE%7CA581622979&sid=googleScholar&v=2.1&it=r&linkaccess=abs&issn=22050795&p=AONE&sw=w&userGroupName=ano%7E8bfa4e90
Jūrmalietis, R., Ābele, L., Benders, J. Ecotechnological approach for sustainable development education: Liepaja University Case. [online] International Multidisciplinary Conference on Social Sciences and Arts – SGEM 2015, Book 1, Volume II, ISBN 978-619-7105-45-2, p 317–325. [cited 25.08.2021.] https://www.elibrary.ru/item.asp?id=43046778&pf=1
Ministru kabineta 2017. gada 23. maija noteikumi Nr. 264 "Noteikumi par Profesiju klasifikatoru, profesijai atbilstošiem pamatuzdevumiem un kvalifikācijas pamatprasībām". https://likumi.lv/ta/id/291004
Ozsariyildiz, S., Beheshti, R. Effects of teaching environments and digital media: the case of a parametric design systems course. Bringing ITC Knowledge to Work, 2007. 763–768.
Picciano, A. Blending with purpose: The multimodal model. [online] Journal of the Research Center for Educational Technology, 2009, 5(1), 4–14 [cited 02.09.2021]. http://rcetj.org/index.php/rcetj/article/viewArticle/11
Powell, A., Watson, J., Staley, P., Patrick, S., Horn, M., Fetzer, L., Verma, S. Blending Learning: The Evolution of Online and Face-to-Face Education from 2008–2015. [online] Promising Practices in Blended and Online Learning Series. International association for K-12 online learning [cited 25.08.2021]. https://eric.ed.gov/?id=ED560788
Scollon, S. W. Nexus analysis: Discourse and the emerging internet. Routledge, 2014.
Somekh, B. Pedagogy and learning with ICT: Researching the art of innovation. Routledge. 2007.
Viederyte, R., Anne, O., Paulauskiene, T., Abele, L. Diversity of eco-innovations towards sustainable development: investments planning performance. [online] 19th International Multidisciplinary Scientific GeoConference and EXPO SGEM 2019 [cited 25.08.2021.] http://toc.proceedings.com/49682webtoc.pdf
World Economic Forum [online]. The Future of Jobs Report 2020. [cited 20.09.2021.]. https://www.weforum.org/reports/the-future-of-jobs-report-2020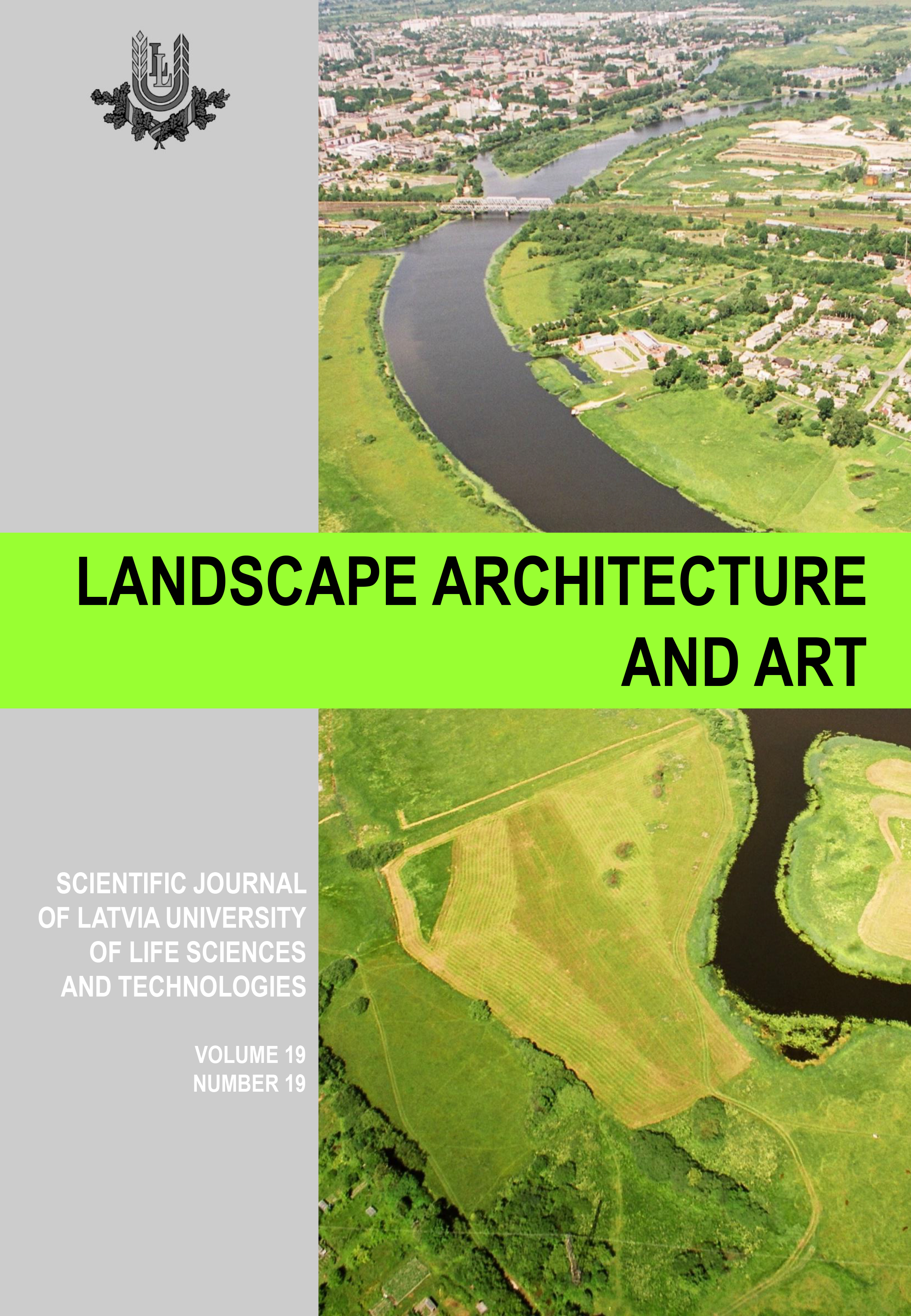 Downloads
How to Cite
Ābele, L. ., Barute, D., Ulmane-Ozoliņa, L., & Rivža, B. (2021). Blended learning in lifelong adult education in the aspects of covid-19 epidemical restriction. Landscape Architecture and Art, 19(19), 140–146. https://doi.org/10.22616/j.landarchart.2021.19.14
License
Copyright (c) 2021 Landscape Architecture and Art
This work is licensed under a Creative Commons Attribution-NonCommercial 4.0 International License.