Spatial identity of Latvian cultural landscape within regional context
Keywords:
cultural-historical landscape space, compositional axes, functionality, harmony, visual psycho-emotional highlight in landscape
Abstract
The value of the cultural landscape heritage, its accessibility, preservation, landscape protection zone rating, avoidance of blocking or releasing viewlines (silhouettes, panoramas) etc. – these are the issues which are very little reflected in municipal documents.
The documents mainly consist of decisions and support to meet practical or business-friendly needs. Along with the increased attraction of EU investment in agriculture, the mentioned issues become even more aggravated – at which expense the areas and the respective payments are increasing? The answer is one – at the expense of the landscape.
In each of Latvian counties, there are territories that cannot lose historical value and we must search for a mutually beneficial algorithm.
EU funding projects must contribute to the preservation of the cultural landscape heritage, i.e. to the introduction of Europe's best philosophy and practices. The recovery of the cultural landscape, including maintenance works and its progress in postsocialist areas, is not an easy task, knowing the existing ownership and the economic situation in the country. Will we really get a greater contribution to the state economy from the amount of threshed centners than from the preservation of landscape values in the long term?
A task of crucial importance is the research of each region's landscape space, the development of a concept and elaboration of project documentation. As the study shows, Latvian greenfields and cultural heritage calls for the actions to form several areas of the museum reserve.
References
Cimermanis S. National Construction in Latvian Landscape (Tautas celtniecība Latvijas ainavā). Zinātne, 2020, p. 687
ICOMOS legal sources for the protection and preservation of cultural heritage. International Council on Monuments and Sites. Riga, Pētergailis, 2018, p. 167
Kundziņš, P. Latvian Farmstead (Latvju sēta), Daugava, 1974, p. 417
Lancmanis, I. Kaucminde Manor. Rundale Palace museum (Kaucmindes muiža. Rundāles pils muzejs). Riga, 1999. p. 52
Laube, E. On Latvian Architecture (Par latvisko arhitektūru). Riga,1938, LU Fac. of Arch.
Country House (Lauku māja). Magazine SIA Santa; index 2406, Riga.
Mašnovskis, V. Manors in Latvia (Muižas Latvijā). Riga, DUE, 2016,2017,2018, 2021. Vol. 1–4
Mintaurs, M. The History of Protection of Architectural Heritage in Latvia (Arhitektūras mantojuma aizsardzības vēsture Latvijā). Neputns, 2018, p. 252
Strautmanis, I. The Latvian Space (Latviskā telpa). RTU, 2011, p. 157
Strautmanis, I. A Dialogue with the Space (Dialogs ar telpu). Liesma, Riga,1 977, p. 120
Strautmanis, I. Profession – the Entire Life (Profesija-visa dzīve). Liesma, Riga, 1981. p. 110
Strautmanis, I. Memories (Atmiņas). RTU, 2009. p. 178
Strautmanis, I. Life in Architecture (Dzīve arhitektūrā). RTU, 2007. p. 137
Ministry of Environmental Protection and Regional Development. Landscape planning, management and protection in rural municipalities (Ainavu plānošana, apsaimniekošana un aizsardzība lauku pašvaldībās), 2001. Riga, MEPRD p. 27
The Uniqueness of Wooden Houses in South Latgale (Viensētu koka arhitektūras savdabība Dienvidlatgalē). Daugavpils, 2016. p. 64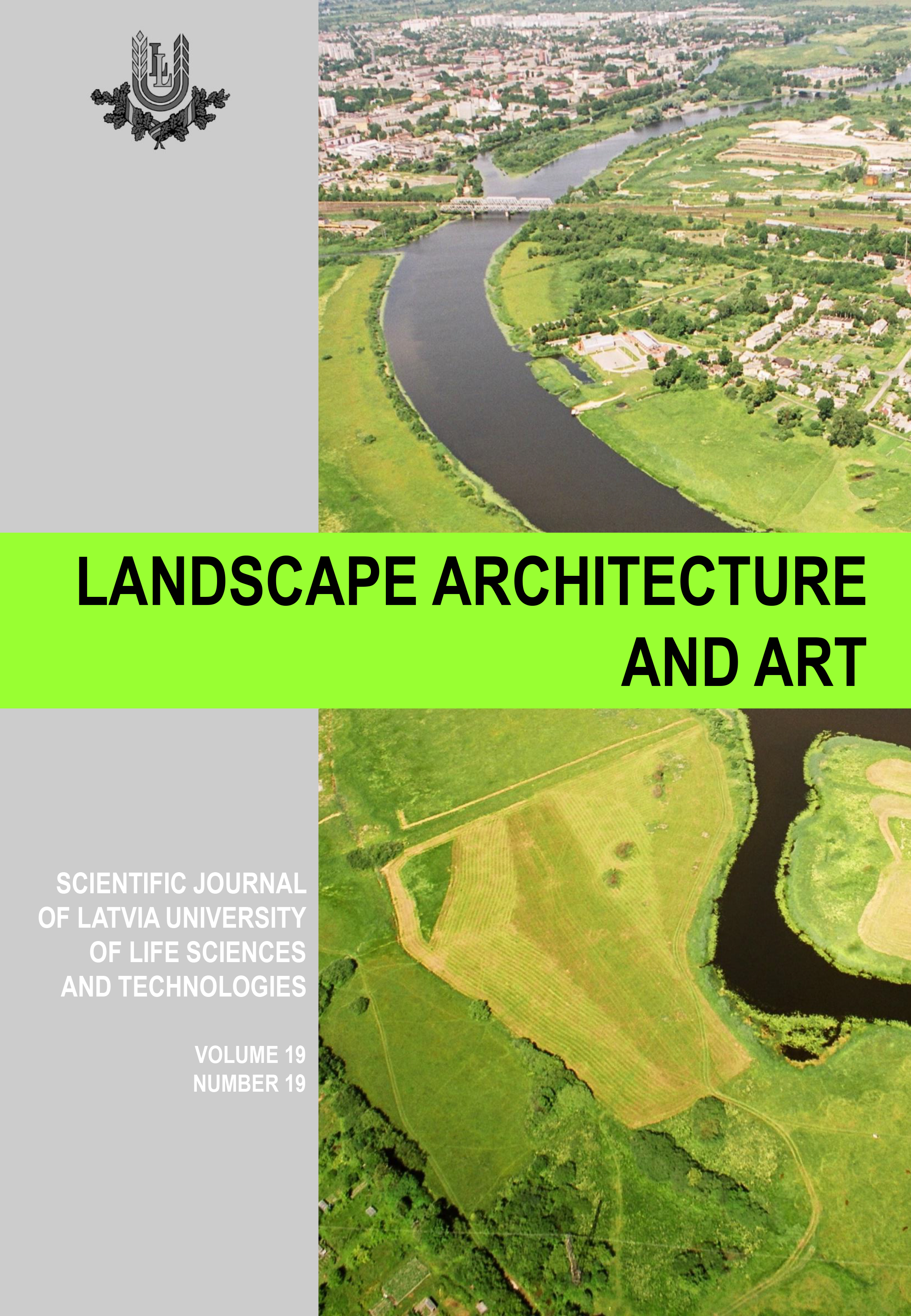 Downloads
How to Cite
Ziemeļniece, A., Īle, U., & Stokmane, I. (2021). Spatial identity of Latvian cultural landscape within regional context. Landscape Architecture and Art, 19(19), 7–17. https://doi.org/10.22616/j.landarchart.2021.19.01
License
Copyright (c) 2021 Landscape Architecture and Art
This work is licensed under a Creative Commons Attribution-NonCommercial 4.0 International License.